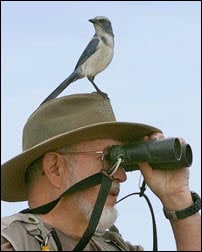 You can live a full and happy life without ever predicting whether the Federal Reserve will raise interest rates. One thing you can't do is listen to the business news without hearing someone else make a forecast.
So much time is spent on this issue that you might think it's really an open question what policymakers will do.
But there's a simple tool that shows at a glance what the market thinks will happen. The CME Group uses futures prices to determine the probability of a change in the short-term interest rate that the Federal Reserve targets.
You can find the CME "FedWatch Tool" here:
So, What Does The Market Think Now?
As I write, there's a 90% probability that there will be no change to the rate at the November 2nd meeting of policymakers. The market expects a 0.25% increase at the December 14th meeting.
Probabilities can change at any time, of course. If new reports show unexpected strength or weakness in the economy, this will be priced into the FedWatch Tool report.
---
Barry Dunaway, CFA®
Executive Vice President & Director of Research
America First Investment Advisors, LLC
---
This post expresses the views of the author as of the date of publication. America First Investment Advisors has no obligation to update the information in it. Be aware that past performance is no indication of future performance, and that wherever there is the potential for profit there is also the possibility of loss.