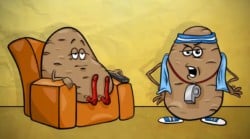 A new TV commercial has given me another reason to scoff at the advice offered by much of the financial advisory business.
A woman is speaking to an earnest fellow we assume knows a lot about investing. She tells him that she would like to take care of her portfolio but doesn't have the time, what with all the demands of work and family.
"Wow, you are busy," he says. "Wouldn't it be great if you had investments that work as hard as you do?"
"Yeah," she replies. (And who wouldn't say this? – at least at first.)
But what does it mean to say an investment is "hardworking?"
Are stocks hardworking because they sometimes generate high returns? Are bonds then like part-timers who can only do so much in a week?
What about cash? Is it a lazy good-for-nothing who lies on the couch and pays hardly any rent?
Trading a lot is not a sign of hard work either. Not the sort of work that is productive, anyway. It may be a sign that someone is making decisions based on unimportant news rather than insight.
I think what we really want is for advisors to work hard at finding worthwhile investments. Ideally, they will buy these at good prices and be able to hold them for a long time. It may sometimes be the case that the result of this sort of hard work is a decision to hold cash and wait for better prices.
---
Barry Dunaway, CFA®
Executive Vice President & Director of Research
America First Investment Advisors, LLC
---
This post expresses the views of the author as of the date of publication. America First Investment Advisors has no obligation to update the information in it. Be aware that past performance is no indication of future performance, and that wherever there is the potential for profit there is also the possibility of loss.