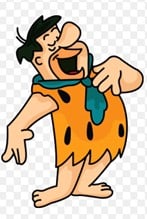 Have you noticed how often the forecast of a "market expert" seems based on nothing more than drawing a straight line between two points?
If a stock price was down yesterday and is down today, it's all but certain that another decline will be predicted for tomorrow.
This easy habit of prediction reminds me of a scene from "The Flintstones," the popular cartoon of the 1960's. Two policemen are sitting in their squad car when the voice of the dispatcher comes on the radio:
"'Grandma Dynamite' is at it again.  She's robbed the First, Second and
Third National Banks."
Policeman to his partner: "Where do you think she'll strike next, Joe?"
Dispatcher (overhearing): "The Fourth National Bank. Where else?"
There's no denying that observing patterns is often a useful thing. Our ancestors had no complaint when a rustling in the grass put them on guard against a lion keen to follow the meat-eating plan of the Atkins Diet.
But our pattern-recognition skills have gone a little soft since then. Fear of an attack by a wild animal has been replaced by the annoyance of a weak Wi-Fi signal when watching YouTube videos. We may imagine patterns that don't even exist.
The complexity of markets can't be captured in simple patterns.
And yet market experts are often richly paid. It's interesting to wonder why.
Part of the reward to the expert may be due to his talent as an entrepreneur. After all, where most people see "Connect-the-Dots" as a children's game, the market expert has the vision to see it as a lucrative career.
---
Barry Dunaway, CFA®
Executive Vice President & Director of Research
America First Investment Advisors, LLC
---
This post expresses the views of the author as of the date of publication. America First Investment Advisors has no obligation to update the information in it. Be aware that past performance is no indication of future performance, and that wherever there is the potential for profit there is also the possibility of loss.