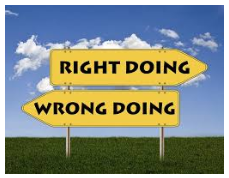 If you've watched TV lately, you may have noticed a heavy bout of advertising from three major companies – a well-known national bank, a ride-hailing service, and the leading social media outfit on the Internet.
All three seem to be apologizing for something.
There's no real admission of guilt. You can almost hear company lawyers say, "Don't say you did anything wrong. Just imply that 'mistakes were made' and leave it at that." Which was OK with management – they didn't want a downer of a message anyway. The important thing, they figure, is to make people feel good about the future. Cue the upbeat music and happy visuals.
These companies could have spared themselves a lot of trouble by keeping one thing in mind each day: What is in the best interest of our customers?
That's what's at the heart of our being an investment manager from the Old School. We aren't out to capture market share, generate commissions or invent new services that take us away from what we do best. All we do is provide investment advice and financial planning for a straightforward fee.
We are not for everyone. In fact, we turn away a fair number of potential clients. We are not wheeler-dealers who trade the latest fad, hoping to beat the market each quarter. We have strict criteria for what we are willing to own for our clients. In the long-run, we expect to do well with an approach focused on understanding value.
We genuinely believe in what we do, and we try to maintain the same focus we've had for over two decades now. We hope you enjoy working with us.
---
Eric Ball, CFA®
Chief Executive Officer
America First Investment Advisors, LLC
---
This post expresses the views of the author as of the date of publication. America First Investment Advisors has no obligation to update the information in it. Be aware that past performance is no indication of future performance, and that wherever there is the potential for profit there is also the possibility of loss.