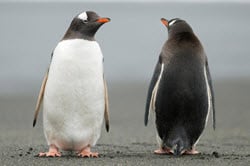 To learn more about something, it's sometimes helpful to look at its opposite.
We always say we want to invest in good, understandable businesses that are well-managed and available in the market for an attractive price.  Just what constitutes a good company or capable management?  We can get some valuable insights by looking at examples of bad businesses and poor managements.
Here's another question:  What is a good way for an advisor to communicate with clients?  Can we learn something by looking at ways NOT to communicate?
Rise of the Machines
Yesterday, I received an email offer that struck me as the exact opposite of our Old School approach to working with clients.
The message came from a company I'll call XYZ that promises to help financial advisors communicate better with their clients.  At least that's what I think they do.  Here's the actual language they use:
"[XYZ] is a turnkey solution that combines behavioral analysis,
automated digital marketing, and machine learning to tailor on-the-fly personalized communications between you and your clients."
Elsewhere they promise "improved understanding of clients" through "automated, persona-based client communication."
In plain language, what they do is this:  Based on answers to a few questions, a new client is assigned to one of four "persona" (personality) categories.  The advisor then communicates with the client through a long series of canned e-mail marketing messages supplied by XYZ.  Each message is worded to appeal to the client's persona.
If – Heaven forbid! – an advisor actually has to speak with a client, XYZ provides some useful tips.  For example, client "Patrick" may have a persona that responds well to the use of certain key words.  The advisor is told to pepper his conversation with words like "done" and "absolutely."  He should also "Project boldness and confidence (even at the risk of sounding impolite)."
Old School
The way we work with clients is the exact opposite of all this.  We don't assign anyone to a "persona" and don't imagine that good communication means emailing canned marketing messages.
Instead, we treat people the way we like to be treated.
We stay in touch. We keep you informed about your portfolio through regular reviews and ask about changes in your life that may affect how we should invest for you.
All of us here are owners of the firm and are pleased to answer your questions about investing and financial planning.
There's no "machine learning" involved.  It's Old School.
---
Barry Dunaway, CFA®
Executive Vice President & Director of Research
America First Investment Advisors, LLC
---
This post expresses the views of the author as of the date of publication. America First Investment Advisors has no obligation to update the information in it. Be aware that past performance is no indication of future performance, and that wherever there is the potential for profit there is also the possibility of loss.