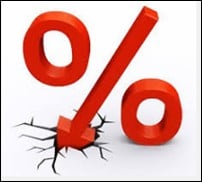 There is data on interest rates going back 5,000 years. In all that time, there has never been anything like the negative rates we now see.
At the end of June, nearly $12 trillion of government bonds around the world offered effective rates that were negative. That means that instead of paying interest to lenders, borrowers are now being paid to borrow.
If that sounds crazy, it's because it is crazy.
People would rather have goods today than the promise of the same goods tomorrow. That's human nature, and it explains why borrowers have always had to pay interest to lenders.
Why Are Interest Rates So Low?
You can blame the Federal Reserve and other policymakers for negative rates. They say that buying huge quantities of bonds with newly created money will encourage spending, investment and economic growth. Policymakers don't care what price they pay for bonds. As they drive prices up, the return you can expect on bonds falls.
What Are You Gonna Do?
So, bond prices are being openly manipulated and interest rates are at levels unseen in 5,000 years. Doesn't this call into question the popular idea that bonds are a good investment for conservative investors?
And yet people continue to buy them.
Most investors are ignoring the situation. Advocates of index funds say no one can know whether prices are too high or low. But they assume that prices are set in a competitive and rational market. That's absurd. Bond prices are being openly manipulated by policymakers.
At America First, we are not ignoring reality. Long-term bonds are dangerously overpriced, and we are not buying them.
Old School Approach
Prices may not fall tomorrow or the next day, but they will fall. We keep an eye on the very real difference between market price and value. Preserving our investor's capital is more important than how we may compare to some benchmark of short-term return. If it makes sense to hold more cash, that's what we do.
That's Old School, and that's what we're about.
---
Barry Dunaway, CFA®
Executive Vice President & Director of Research
America First Investment Advisors, LLC
---
This post expresses the views of the author as of the date of publication. America First Investment Advisors has no obligation to update the information in it. Be aware that past performance is no indication of future performance, and that wherever there is the potential for profit there is also the possibility of loss.