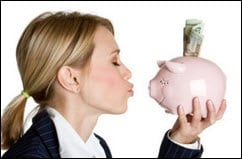 All investors get bad advice.  The wealthy just get it from better-dressed advisors.
We recently reviewed the portfolio of a big foundation that was looking for a new investment manager.  On the advice of a well-paid consultant, the board had invested heavily in "alternative assets."  These include such clear-as-mud concoctions as hedge funds, funds of funds, managed futures, derivatives and private equity.
These things are mostly restricted to wealthy individuals and large institutional investors such as pension funds and foundations.  The sales pitch focuses on the diversification benefit these funds can provide to a select clientele.  Returns can be improved and ups and downs smoothed.
This is a doubtful claim.  What alternatives really do best is generate high fees for their sponsors.
Example:  Private Equity



Consider private equity.  Marketers know how enticing the word "private" can be.  It suggests investments that are reserved for the "smart money" – the wealthy, savvy, well-connected crowd who get first crack at the best deals.
At bottom, though, private equity simply means owning a business that is not publicly traded.  There's nothing special about this.  The tyke who runs a lemonade stand down the street from me is involved in private equity, though he seems to favor t-shirts to custom suits.
Unless a company is unique or available at a cheap price, it's hard to see the attraction.  Diversification? Not at all.  An investor can diversify more easily by buying a similar company on a stock exchange.
In practice, sponsors make private equity look sophisticated by using lots of debt.  Leverage will boost returns if an asset is bought at a low price and sold at a high one, but it can lead to losses when a high price is paid.  Just this week, The Wall Street Journal reported that investors in a large oil & gas partnership were wiped out when low commodity prices made it impossible to pay their debts.
Sponsors don't stay awake at night worried about the prices they pay for investments.  They usually put up only a small amount of their own money.  Their return comes from layers of fees that investors often don't understand.  These include management fees, monitoring fees, transaction fees and bonus payments.  A study cited by the Financial Times reports that over a 10-year period, investors kept only about 70% of the gross returns from their funds.
Other Problems
High fees and no real diversification benefit are just two of the problems with alternative assets.  Here are two other issues:
Lack of liquidity. Investors can't sell their alternative asset funds whenever they want.  Sponsors require a holding period of several years.
Uncertain carrying values. Some assets have no readily available market price.  In these cases, managers must make estimates.  Even when done honestly, these will become dated and potentially misleading.  Imagine an investor who is pleasantly surprised to see that the value of his alternative asset fund held up even as the stock market fell.  Unfortunately, this could just mean that the manager hasn't yet updated his estimates.
At Least the Name is Right
For all their faults, alternative assets are aptly named.  They are a stark contrast to stocks, bonds and cash, which are low cost, liquid and much easier to understand.
---
Barry Dunaway, CFA®
Executive Vice President & Director of Research
America First Investment Advisors, LLC
---
This post expresses the views of the author as of the date of publication. America First Investment Advisors has no obligation to update the information in it. Be aware that past performance is no indication of future performance, and that wherever there is the potential for profit there is also the possibility of loss.