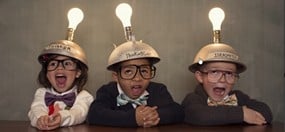 If a company paid $100 to buy stock that now trades for $75, should we conclude that they are dumb?
A recent article in The Wall Street Journal notes that many companies may have overpaid by buying their own shares last year at high prices. Apple, the Journal notes, would have saved stockholders $9.5 billion had they waited until late December to buy shares.
Should investors fault management for having paid high prices? People quoted by the Journal offer these ideas:
Management can't be expected to know how prices will move. Maybe prices will rebound tomorrow, and today's embarrassment will be forgotten.
Management should be criticized. Shareholders would be upset if management paid a high price to buy another company. Why shouldn't they be upset if management paid up for the company's stock?
Buying stock is a good idea, almost regardless of the price that is paid. When there are fewer shares outstanding, earnings per share goes up and this makes stockholders better off.
Our View

This is important stuff. How well you do as a stockholder depends on how well management invests cash. You want them to be smart about it.
Here's our opinion:
A company should buy its stock when the price is less than the value of the business. If management pays $0.50 for a dollar of value, they will make us very happy. Top executives should know better than the market how their business is doing and whether market prices are reasonable.
We don't want management to buy stock simply because they have the money. The Journal reports that through September 2018, companies in the S&P 500 spent 53% more on stock purchases than they did in the same period a year before. Companies had much higher income last year, thanks mostly to lower tax rates, and it's plain that they spent a lot of it to buy stock. But if they paid, say, $1.50 for a dollar's worth of business value, they did not help their shareholders.
Higher earnings per share does not always help stockholders. If management invests cash at a low rate of return, their stock price will fall even if earnings per share goes up. After all, investors can earn a low but safe rate of return on a certificate of deposit. They demand high rates of return from stocks to compensate for accepting higher risk.
Even if they share our principles, management will sometimes be embarrassed by paying what turn out to be high prices for company stock. Conditions change unpredictably for the economy and stock market. But as long as management tries to act rationally to create value, we'll be pleased.
---
Barry Dunaway, CFA®
Executive Vice President & Director of Research
America First Investment Advisors, LLC
---
This post expresses the views of the author as of the date of publication. America First Investment Advisors has no obligation to update the information in it. Be aware that past performance is no indication of future performance, and that wherever there is the potential for profit there is also the possibility of loss.