(This is part three of a three-part series.)
We've looked at what makes a good business and how we evaluate a company's management.  The last part of our three-part test for an investment involves estimating business value.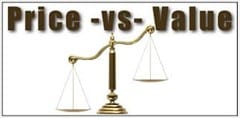 "Hold it right there," a student of modern finance will say.  "Haven't you heard?  The best estimate of value is the company's stock price.  It reflects all the information and opinions that are out there.  Thousands of people helped set that price, but now you come along and say that your opinion is better?"
We understand this argument.  In fact, the stocks that interest us are usually fairly priced.  On occasion, though, stocks won't show the sort of cool-headed appraisal of value that modern financial theory asserts.  Fear, greed and pressure for short-term performance can overwhelm rationality in the market.  In such instances, mob psychology can provide a better explanation of market prices.
Margin of Safety
Our goal is to take advantage of the occasional difference between market price and our estimate of business value.  This gives us the opportunity to profit as the market rises toward our estimated value.  It also offers some downside protection in case a company runs into problems that we didn't anticipate.
Comparables or "Comps"
One approach to estimating business value is familiar to anyone who has sold a house.  What prices have been paid for similar properties in the recent past?  Are there reasons to value the present one at a higher or lower price?
Home prices are often compared based on the price paid per square foot.  Takeover prices for businesses are commonly expressed as multiples of revenue, cash flow or earnings.  For example, we may say that companies like the one we're analyzing have  drawn offers equal to three times this year's revenue or twenty times this year's earnings.
Our next step is to judge whether our company, if taken over, deserves a higher or lower price than that paid for similar businesses.  Are its growth prospects better?  Does it earn more per dollar of sales?
Prices paid in takeovers are usually at a premium to recent market prices.  Bidders are willing to pay a higher price in order to gain full control over another company.  They expect to recoup the premium through some combination of expense reductions and higher sales.  Prices paid by knowledgeable bidders can provide useful estimates of value even if we don't necessarily think a company will agree to a merger.
Capitalized Earning Power
Another way we value a company begins by estimating its "earning power" over the next two or three years.  Without attempting to be precise, what is a reasonable estimate of what a company can earn in the not-too-distant future?
We then consider how the market is likely to value the expected earnings.  Will the business be awarded a price-earnings (P/E) ratio that is comparable to that of the S&P 500?  A fast-growing, highly profitable company with many reinvestment opportunities may sell well above the P/E of the S&P 500.  One that is seeing slowing growth, declining profit margins and new competition will tend to trade below.
This method of valuation is similar in concept to the more formal "Discounted Cash Flow Model," which we also sometimes use.  The idea is to value the earnings that we think shareholders will receive, adjusted for risk and the time value of money.
A Combination of the Two
We sometimes use both of these methods to value a company.  The comparables approach can tell us what price an acquirer might pay for the whole company, while the capitalized earning power method estimates a future trading price.   A stock that is cheap on both measures is especially promising.  It suggests to us that we can profit from a normal recovery in the share price or from a takeover proposal.
We recently used the comparables measure to value one division of a company and the earning power method on the rest.  The first division was fairly easy to value because a very similar company had recently been acquired.  The rest of the business was slightly harder to value, but even conservative estimates suggested we had a good margin of safety.
In Sum
Our three-part test for a new investment seems simple:  We want good businesses, capable management and a share price that is less than we think the company is worth.  As you can see from this series of posts, there is a lot of research and judgment involved.
---
Barry Dunaway, CFA®
Executive Vice President & Director of Research
America First Investment Advisors, LLC
---
This post expresses the views of the author as of the date of publication. America First Investment Advisors has no obligation to update the information in it. Be aware that past performance is no indication of future performance, and that wherever there is the potential for profit there is also the possibility of loss.