"Bottom line:  Cash only matters when it matters.  And when it matters, it really, really matters." – Bruce Flatt, CEO of Brookfield Asset Management.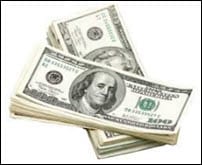 Bruce Flatt is an admirably clear-thinking CEO.  In a recent "Letter to Shareholders" of Brookfield Asset Management, he tells shareholders that management plans to hold more cash, even at yields of nearly 0%.  In the short run, he says, income would be higher if they were to invest more in current operations.   In the longer term, though, cash may prove to have advantages for shareholders.
When the market turns down, Flatt says his company will have the liquidity to buy good assets.  Rival firms may not.  He notes that many of the best investments he and his team have made came when others were unable or unwilling to buy and prices were cheap.
We agree with Flatt that when prices for potential investments are high, it's best to hold cash and wait.  You may say that this is only common sense, and you'll hear no objection from us.  But from what we observe, it's an Old School idea.
It's common for investment managers nowadays to be so scared of being out of step with a stock market index like the S&P 500 that they will keep their clients nearly fully invested no matter how high prices get.  That's not our way.
---
Barry Dunaway, CFA®
Executive Vice President & Director of Research
America First Investment Advisors, LLC
---
This post expresses the views of the author as of the date of publication. America First Investment Advisors has no obligation to update the information in it. Be aware that past performance is no indication of future performance, and that wherever there is the potential for profit there is also the possibility of loss.