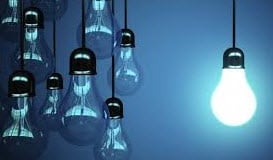 The Wall Street analysts you see on TV do look like experts.
They represent well-known financial firms.  They dress well.  And they speak with the self-assurance that comes from long experience with the companies they talk about.  Doubtless they are on a first-name basis with important CEOs.
Who could be in a better position to know when you should buy or sell a stock?  Well, maybe someone who isn't compromised by the biases these analysts have.
Wall Street Bias #1:  Don't Bite the Hand that Feeds You
Lots of investment managers closely follow the opinions of Street analysts.  The analysts know, however, that they most need to please two small groups.
First are the managements of the companies they follow.  Analysts often work for investment banking firms that make money by raising capital for corporate clients.  A proven way for these firms not to get business is by publishing research that is critical of a potential client.
Is it any wonder that a report in 2015 found that only 6.7% of Street recommendations had a "Sell" rating?
Wall Street Bias #2:  Overreaction to Short-Term News
Analysts also need to satisfy large, active traders.  These can be very profitable customers of the firms that analysts work for.
Traders aim to make quick profits when prices adjust to breaking news.  Analysts help by offering their insights and opinions.
Because traders are most interested in short-term price moves, analysts focus attention on the short-term, too.  Their research isn't of much use to investors like us.  When we analyze a business, we are interested in estimating business value – what a knowledgeable buyer might pay to acquire an entire company.  Fleeting news stories have little effect on this value.
How We Do It 
We're not in the investment banking or brokerage business, so we don't have to curry favor with company managements and trading customers.
Our clients are people interested in building wealth over the long term, and our only income comes from a management fee.  We can focus on factors that are likely to have a more lasting effect on business value.
Much of what we look at revolves around our three-part test for a stock.  As we've discussed in earlier posts, we are interested in answering the following questions:
Is this a good, understandable business?
Can we expect management to act in the best interest of shareholders?
Is the stock available at an attractive price?
Answering these questions involves a lot of detail.  It also means making estimates, which are subject to uncertainty and, yes – our own biases.
Being aware of the influences that go into forming our estimates helps us make better decisions.
---
Barry Dunaway, CFA®
Executive Vice President & Director of Research
America First Investment Advisors, LLC
---
This post expresses the views of the author as of the date of publication. America First Investment Advisors has no obligation to update the information in it. Be aware that past performance is no indication of future performance, and that wherever there is the potential for profit there is also the possibility of loss.